Het vervoer van mensen die gebruik maken van een rolstoel moet natuurlijk veilig gebeuren. De code Veilig Vervoer Rolstoelinzittenden beschrijft de (wettelijke) regels waaraan moet worden voldaan. Op 1 juli 2019 wordt de herziene code VVR van kracht.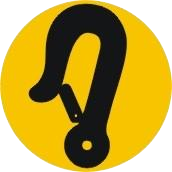 Het is van belang dat u controleert of op uw rolstoel het teken zoals hier afgebeeld staat.
Als rolstoelgebruiker mag u alleen nog vervoerd worden in een rolstoel die voldoet aan de ISO-norm 7176-19 (botsproef). Dit is een rolstoel die veilig vastgezet kan worden en te herkennen is aan de haaksymbolen op het frame bij de bevestigingspunten.
Staat dit symbool op uw rolstoel dan hoeft u niets te doen. Uw rolstoel voldoet dan aan de nieuwe eisen.
Heeft uw rolstoel dit symbool niet, dan is het van belang dat u contact opneemt met de leverancier. U moet dan het framenummer van uw rolstoel doorgeven aan de leverancier en deze kan dan kijken of uw rolstoel alsnog in aanmerking komt voor deze sticker. Komt uw rolstoel niet voor deze sticker in aanmerking dan kunnen we u vanaf 1 juli 2019 het vervoer weigeren. De rolstoelinzittende kan zonder sticker niet veilig vervoerd worden.
Voor meer informatie kunt u terecht bij het Sociaal Fonds Taxi, Postbus 154, 4100 AD Culemborg. Telefoonnummer: 0345-478473. Natuurlijk kunt u ook met vragen terecht bij uw rolstoelleverancier.